At Wonder In Adagio, we believe that your wedding is all about you and your incredible love story. Each and every event is unique and tailor-made to capture your love! And that means weddings of all sizes. From large events to intimate elopements with just the two of you. Elopements are some of our favorites to photograph and capture!
The Finger Lakes is an incredible place for your elopement. Whether you dream of a ceremony at the foot of a waterfall, or an open field overlooking the lakes, we love to photograph it all. Elopements in the Finger Lakes are special and we want to help you see just why!
Why Should We Elope?
If you're looking for intimate moments with just you and your partner, but want to experience them to the fullest on your wedding day, you should elope. 
If you want to just be in nature, taking in each breath of newlywed bliss amongst the tall grass, lapping water, and the bluest skies, you should elope. 
And if wanting all the joy of marriage without all the stress, you should elope. If your soul is adventurous, and you and your partner love exploring together, you should elope. 
Eloping is less of an expectation and more of a feeling. It's about getting married EXACTLY the way you and your partner want, no other opinions needed. 
It's YOUR day, do it the way YOU want. 

The Seasons to Elope In The Finger Lakes
The Finger Lakes is incredible year-round, with beautiful seasons. So as you start to consider when to elope in the Finger Lakes, consider what weather and backdrop you are looking for.
The late Spring, Summer, and early Fall are the most popular times since the weather is beautiful. It does get warm in the summer, but if you are by the lake, you can expect a nice breeze. The harvest time for local wineries is often Mid-August, so if you decide on a Spring or Summer wedding, you can have beautiful portraits in the vineyards.
If you want to backpack or do an adventure elopement, early Fall is one of the best times! The weather is cooler, the leaves are colorful, and the bugs are mostly gone. 
But don't forget the winter! If you are a snowbird, the winter in the Finger Lakes is beautiful. While it might be quite chilly, we do get quite a bit of snow, which makes for great photographs. Plus, most venues and locations will have discounted rates in the winter. You can pick a frozen waterfall, a ski lounge, or just right on the lakes!

Flowers: Foote Florals
Venue: Crispin Hill
Bridal Boutique: Ever After Bridal
Suit: Dick Anthony
Coordinator: Radiant Event
 Eloping on Cayuga Lake
The longest lake in the Finger Lakes, Cayuga Lake is one of the most popular spots for elopements! At the south end is Ithaca. Home of Ithaca College and Cornell University, this is a popular spot for former students, and those who just love the incredible rolling hills and lake views! If you are looking for an adventure elopement or a waterfall view, we love Taughannock Falls. The highest waterfall east of the Rocky Mountains, Taughannock Falls is breathtaking.
You can do the short hike to the fall itself, or elope in the park overlooking the waterfall. Ithaca is also home to countless wineries, cute downtown restaurants, and Historic Inns, like the Inn At Taughannock Falls. If you are looking for a more private area, make sure to check out the Inns of Aurora. A collection of historic Inn's this region has some of the most breathtaking spots in the Finger Lakes Region, and Country Living named it "America's best-kept secret."!
Looking For an Ithaca Engagement Session Inspiration? Check out Felicia + Dan!

Eloping on Keuka Lake
Keuka Lake is one of our favorites in the Finger Lakes! It's right in the heart of the region and has some of our favorite wineries in New York. The village of Penn Yan is at the northern tip of the lake. There you can elope overlooking the wineries and lakes, or at one of their intimate inns.
Crispin Hill is a venue we always suggest to our couples! Owned by Heather Tompkins and Chelsey Media, Crispin Hill is a gorgeous nine-acre venue overlooking Keuka Lake. Considered the gem of the Finger Lakes, Keuka Lake has some of the most beautiful views in the Finger Lakes. You can say your vows overlooking the lake, and invite up to 25 guests.
Make sure to check out Erin and Curtis' Fall Wedding at Crispin Hill

Eloping on Seneca Lake
Home to Geneva on the North End and Watkins Glenn at the South, Seneca Lake is another wonderful option. Watkins Glen State Park is one of the most scenic in all of Upstate New York, and is perfect for a couple looking for a little bit of adventure! 
If you are looking for a sophisticated and European garden-inspired venue, we love Geneva on the Lake. Built in the 1910s, its Italian Renaissance architecture is unique and perfect for intimate elopements. They also have guest rooms on the property, so you could stay for the whole weekend!
See More Inspiration with Mackenzie and Mason's Engagement session at Seneca Lake!

Eloping on Canandaigua Lake
Located 25 miles from Rochester, Canandaigua Lake is perfect for those destination couples who want to elope in the Finger Lakes, but are flying in from further away. It is also home to three of our favorite spots, Canandaigua (on the north side of the lake) Naples (south side of the lake), and Bristol (located 15 minutes west of the lake).
If you are looking for a rustic venue, with incredible lake views, you will love Wren's Roost! Their indoor and outdoor spaces are beautiful, with a fire pit, and acres of scenic privacy, right in Naples, New York.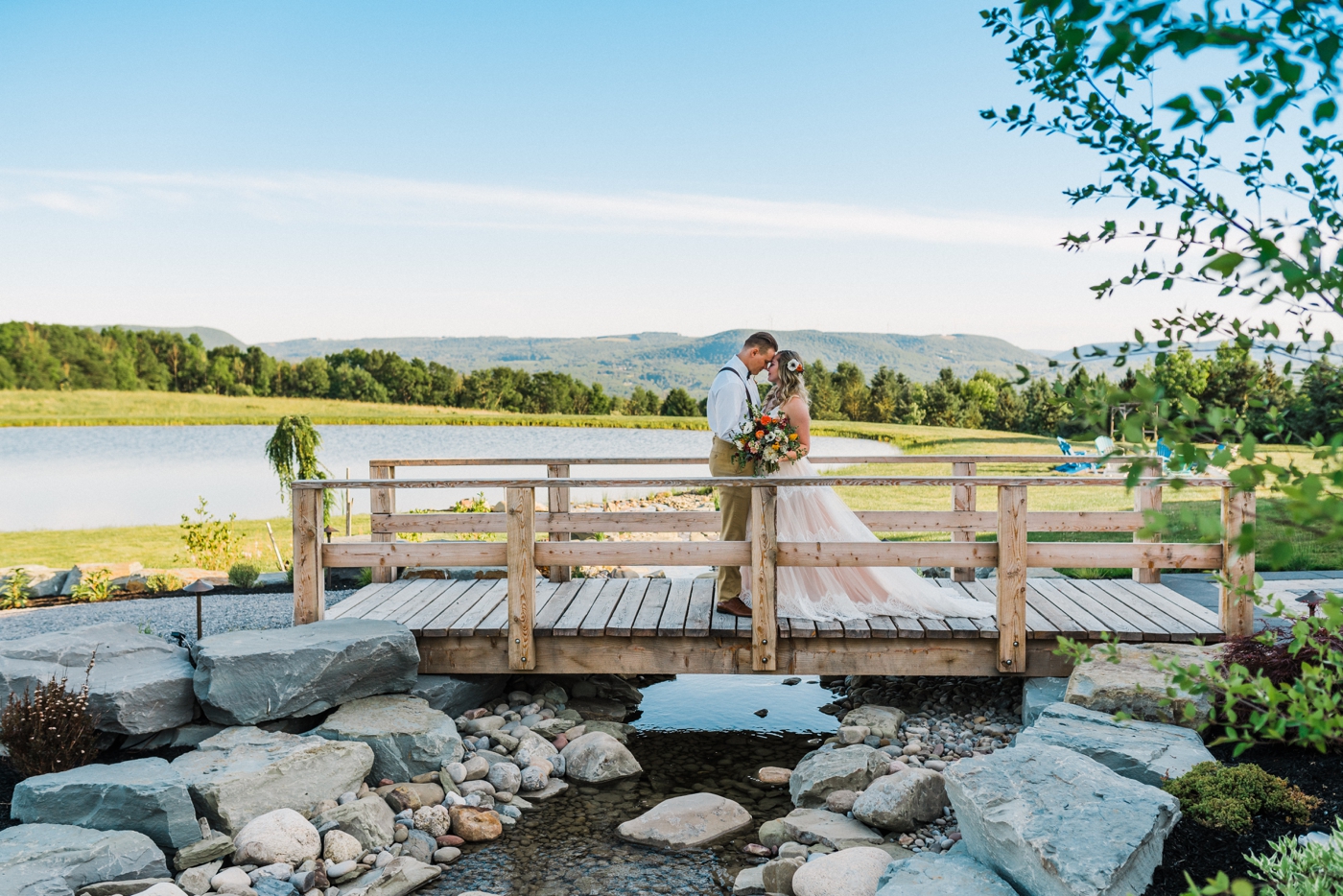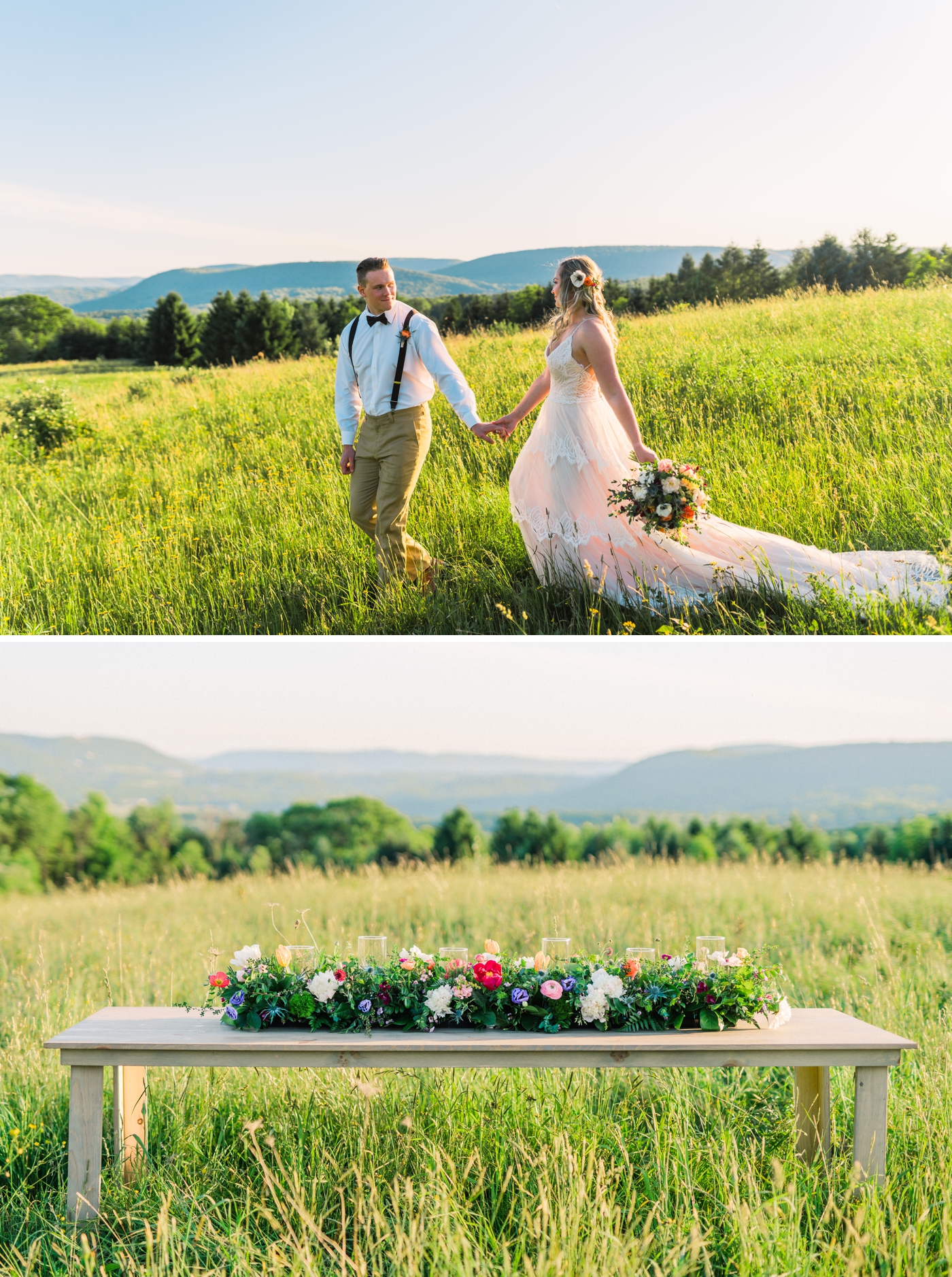 Flowers: Foote Florals
Venue: Wren's Roost
Bridal Boutique: Two Hearts Bridal
Suit: Dick Anthony
Coordinator: Radiant Event
Elopement Photography and Videography for All Couples
We are here for YOU and your love every step of the way. From planning your day, to make-up, flowers, photography, video… We are here to help break down the barriers holding back your wild love from having the dream day that showcases your personality! As you start to plan your dream elopement here in the Finger Lakes, we would love to learn more! We can help you find the best spot, no matter what your vision is. You can rest assured that even if you aren't a local, you will be taken care of.